Responsible AI for Social and Ethical Healthcare
An International Symposium
Meeting Summary
Large language models have taken the world by storm, so healthcare needs a global discussion of how best to use this revolutionary new wave of AI. The ultimate answers may vary from country to country, but we can begin the conversation by working out a shared vocabulary and comparing the tradeoffs involved in different policy choices.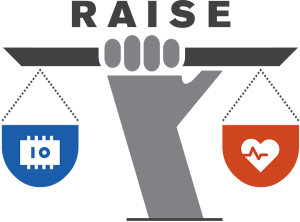 This symposium is designed to enable a transparent and public conversation to articulate the policy framework of AI in healthcare, including the pros and cons of distinct regulatory regimes that reflect the distinct values of the societies they serve. For example, one country may emphasize privacy while another stresses maximal data-sharing, or one country may favor aligning AI use with public health while another favors individual patient care.
The forum brought together experts in policy, patient advocacy, economics, AI, healthcare, and ethics to develop the framing principles that different policy-making groups can use to guide their own best practices for the safe and effective use of AI in healthcare. A common international framework is essential for policy development and future discussions around global health challenges, even if policies differ from place to place.
RAISE took place in New England October 29–31, 2023 at the Cliff House in Cape Neddick, Maine. It was kept small (less than 150 invitees) so that all voices could be heard and engaged. The program included keynote addresses, panel discussions, and breakout sessions. The resulting "output" will be a framework document that outlines the tradeoffs along a spectrum of solutions to promote the ethical, equitable, and responsible application of AI to medicine internationally.
Issues
We identified six key issues to address:
Who should agents of artificial intelligence in medicine (AIM agents) serve?
Which system of medicine is authoritative?
From Dyad to Triad: To what degree is the AIM agent recognized as a distinct party to the patient-clinician relationship?
Who controls the incorporation of patient data into the training of AIM agents?
Should consumers have access to medical advice from AIM agents?
What is the business model/funding of AIM agents?

Sponsors
Organizing an event like RAISE is resource-intensive, and we are very grateful to the sponsors whose collaboration and donations made it possible: