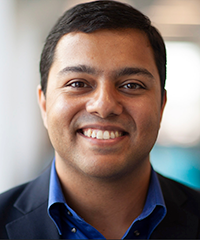 Arjun (Raj) Manrai, PhD
Assistant Professor in the Computational Health Informatics Program (CHIP), Boston Children's Hospital
Assistant Professor of Biomedical Informatics, Harvard Medical School (Secondary)
Arjun Manrai is an Assistant Professor in the Computational Health Informatics Program at Boston Children's Hospital and the Department of Biomedical Informatics at Harvard Medical School. Manrai directs a research lab of machine learning scientists, clinicians, and biomedical data scientists working to improve medical decision making by developing computational approaches that incorporate rich and deep representations of clinical state and an individual's identity into care. Active projects include:
Improving genetic variant classification with statistical and machine learning approaches, with a focus on inherited heart disease
Disentangling demographic and clinical structure in blood laboratory biomarkers with a focus on kidney disease
Developing semi and self-supervised learning approaches for both highly structured (e.g. imaging) and less structured (e.g. laboratory) data
Modeling fundamental reproducibility and adoption challenges associated with the clinical deployment of artificial intelligence

At DBMI, Manrai is co-director of BMI 704: Data Science for Medical Decision Making, a mentor in DBMI's Summer Institute in Biomedical Informatics (SIBMI), and a Capstone Oversight Mentor in the Master of Biomedical Informatics (MBI) program. Manrai is also a long-time mentor of undergraduates at Harvard College, having served for nearly a decade as Resident Tutor and now Faculty Associate at Leverett House.
Manrai received an A.B. in Physics with Highest Honors from Harvard and earned his Ph.D. in Bioinformatics and Integrative Genomics from the Harvard-MIT Division of Health Sciences and Technology under Professor Isaac Kohane.