B3D Seminar Series to Launch Fall 2016
DBMI Joins with HSPH Biostat to Tackle Large Complex Data Sets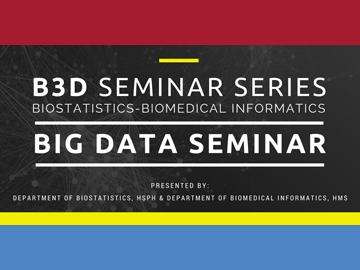 The Department of Biomedical Informatics will be co-hosting the Seminar on Biostatistics – Biomedical Informatics – Big Data (B3D), a new series jointly organized with the Department of Biostatistics at the Harvard TH Chan School of Public Health.
The general theme of the seminar series is statistical and computational methods for analyzing large complex data sets, with a focus on applications in biomedical and health sciences such as genetics and genomics, environmental health research, comparative effective research, electronic medical records, neuroscience, and social networks. Our goal is to provide a forum for exchange of ideas and to promote collaboration among researchers from a variety of disciplines, such as computational biology, medicine, neuroscience, systems biology, computer science, social science, statistics and biostatistics, and any other related area. The seminar features local, national, as well as international speakers who are leaders in their field.
Talks will be biweekly on Mondays from 12:30 to 1:30 in the Lahey Room in Countway Library (5th Floor) beginning on September 19, 2016. A pizza lunch will be provided. For dates and up-to-date speaker information please see the B3D website and sign up for the B3D mailing list.