Bull's Eye
Precision Medicine is growing up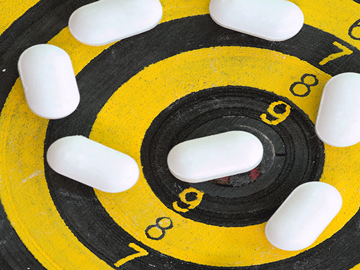 Call it the "too much knowledge" paradox: The vast amount of new data generated by biomedical science carries the promises to make medicine über-precise. In the meantime, however, it does so at the peril of generating too much noise and confusion.
As the still young field of precision medicine goes through its growing pains, scientists, clinicians and researchers are trying to determine how to harness rich, new data to ensure the information is interpreted, contextualized and, above all, used in a manner that renders medicine properly individualized for each patient? At the same time, those pioneering this field must learn how to turn all the emerging knowledge into workable clinical and business models.
These and other coming-of-age questions were addressed by patients, scientists and entrepreneurs at the third annual Precision Medicine Symposium, organized by the Department of Biomedical Informatics and held at Harvard Medical School on June 21. The daylong conversation explored three central themes: early disruptors in precision medicine, academic and industry collaborations, and guidance for consumer decision-making.
Some of the most critical insights into the field's future, according to event organizer Isaac Kohane, chair of the department, will come from harnessing the drive and passion of motivated patients and families to disrupt classic models of care delivery—from capturing the cross-pollination across academia and industry and from ensuring that patients and consumers are equipped to navigate the dangers of too much information and information "exhaust" from the data tailpipe...
Continue reading article by Ekaterina Pesheva, Director of Science Communications and Media Relations, Harvard Medical School