Connecting for Data Science
Department brings HMS and four affiliated hospitals together for Clinical Informatics Lecture Series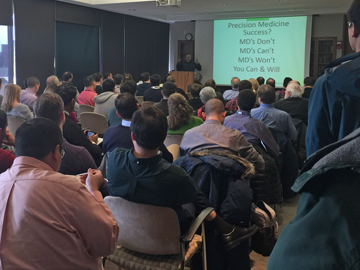 The first Harvard Clinical Informatics Lecture Series of 2016 is underway, having kicked off in January with Grand Rounds hosted by DBMI Chair Zak Kohane. Dr. Kohane spoke about the intersection of precision medicine with clinical informatics and operations. He implored the audience to join him in the creation of two prerequisites to fulfilling precision medicine's promise: educational programs for clinicians that bake quantitative reasoning into all medical decision making, and a genuine nationwide health-monitoring network.
This weekly series is a collaboration between DBMI, Beth Israel Deaconess Medical Center, Boston Children's Hospital, Brigham and Women's Hospital, and Massachusetts General Hospital. While designed for clinical informaticians and fellows, it is open to anyone in the Harvard community as well as the general public.
The core content of clinical informatics is covered through lectures, grand rounds, journal clubs and works in progress. Meetings are on Tuesdays from 12:00 noon to 1:00 pm, with location determined by speaker's home institution. All grand rounds are held in the Department of Biomedical Informatics. Attendees are welcome to bring lunch to most locations. Events are delivered via WebEx for those unable to attend in person.
Here is the full list of meetings held so far:
Title
Speaker
Format
Location
Date
Precision Medicine Success? MD's Don't. MD's Can't. MD's Won't. You Can & Will.
Zak Kohane, MD, PhD
Professor and Chair, Department of Biomedical Informatics
Professor of Pediatrics, Boston Children's Hospital
Grand Rounds
Harvard Medical School, Countway Library, Lahey Room
1/12/16
Well… How Did I Get Here? (and other musings on being an informatician in a leadership role)
Dan Nigrin, MD, MS
Senior VP and Chief Information Officer
Division of Endocrinology, Boston Children's Hospital
Assistant Professor of Pediatrics, Harvard Medical School
Lecture
Boston Children's Hospital, Wolbach Board Room
1/19/16
Graphical Display of Diagnostic Test Results in Electronic Health Records: A Comparison of 8 Systems
&
Improving Health Care Proxy Documentation Using a Web-Based Interview through a Patient Portal
Justin Rousseau, MD
&
Mark Zhang, DO
Journal Club
Brigham and Women's Hospital, Eugene Eppinger Library conference room
1/26/16
Innovation in Medical Technology and Practice
Stan Finkelstein, MD
Associate Professor of Medicine, Harvard Medical School;
Senior Research Scientist, Engineering Systems Division and HST, Massachusetts Institute of Technology
Lecture
Beth Israel Deaconess Medical Center, Division of Clinical Informatics
2/2/16
Knowledge Representation for Scientific Discovery and Clinical Research
Alexa T. McCray, PhD
Professor of Medicine
Department of Biomedical Informatics, HMS;
Division of Clinical Informatics, BIDMC
Grand Rounds
Harvard Medical School, Countway Library, Classroom 403
2/9/16
Development of an Integrated Data Management System
Jonathan Bickel, MD
Assistant in Medicine; IT Physician Lead, BCH Biorepository; Senior Director, Business Intelligence and Clinical Research Informatics
Instructor in Pediatrics, Harvard Medical School
Lecture
Boston Children's Hospital, Gamble Library
2/16/16
Informatics for Integrating Biology and the Bedside (i2b2)
Shawn Murphy, MD, PhD
Medical Director of Research Computing and Informatics, Partners HealthCare;
Associate Professor, Harvard Medical School;
Associate Neurologist, Massachusetts General Hospital
Lecture
Brigham and Women's Hospital, Cardiac Surgery Conference Room
2/23/16
ICD-10 Implementation Panel: Experience and Challenges in Practice
Ebrahim Barkoudah, MD, MPH
Medical Director and Associate Chief of Hospital Medicine Unit at Brigham and Women's Hospital
Jonathan Hron, MD
Clinical Informatics Fellowship Program Director and Medical Informatics Lead for Communication & Education at Boston Children's Hospital
Amy Goldman
Director of Ambulatory Operations & Strategic Initiatives at Beth Israel Deaconess Medical Center
Panel Discussion
Harvard Medical School, Countway Library, Classroom 403
3/1/16
Past, Present, and Future: A Conversation With Howard Bleich and Warner V. Slack on Informatics, Leadership, and Change
Warner V. Slack, MD
Professor of Medicine, Harvard Medical School
Howard Bleich, MD
Professor of Medicine, Harvard Medical School
Grand Rounds
Harvard Medical School, Countway Library, Minot Room
3/8/16