Imprecise Diagnoses
Genetic tests for potentially fatal heart anomaly can misdiagnose condition in black Americans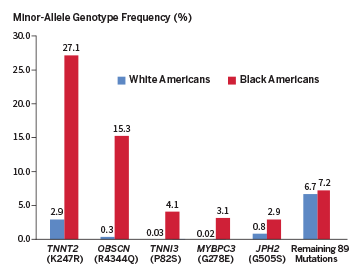 Genetic testing has greatly improved physicians' ability to detect potentially lethal heart anomalies among asymptomatic family members of people who suffer cardiac arrest or sudden cardiac death.
But a study led by DBMI research fellow Arjun (Raj) Manrai, published in the Aug. 18 issue of The New England Journal of Medicine, shows that over the last decade these lifesaving tools may have disproportionately misdiagnosed one cardiac condition — hypertrophic cardiomyopathy (HCM) — in black Americans. HCM, which affects one in 500 people, is an often-asymptomatic thickening of the heart muscle that can spark fatal arrhythmias in seemingly healthy young adults.
The notion that genetic tests could misread benign genetic alterations as disease-causing mutations is not entirely new. But this study is believed to be the first one to trace the root of the problem to racially biased methodologies in early studies that defined certain common genetic variants as causes of HCM...
Continue reading press release by Ekaterina Pesheva, Director of Science Communications and Media Relations, Harvard Medical School
Media Coverage
Also See