MBI Degree Candidates Present Capstone Projects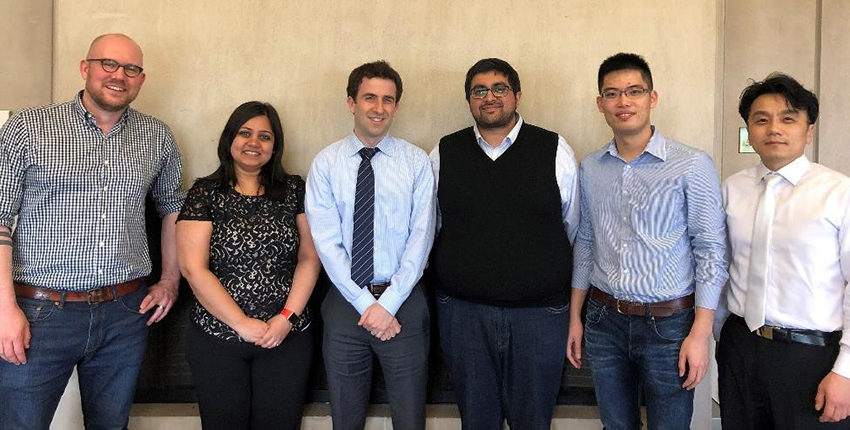 The Class of 2018 MBI Degree Candidates shared the outcomes of their Capstone projects at a presentation session attended by project mentors, department faculty, and peers. As part of the capstone experience, students were asked to discuss their final projects in a fifteen minute presentation with five minutes allowed for questions from audience members.
MBI Class of 2018 Capstone Projects
Tamim Alganam, MBBS, "Retrospective Usage Data Analysis of Wateen Application" Project Mentor: Adam Landman, MD
Avika Dixit, MBBS, MPH,  "Genotypic clustering does not imply recent tuberculosis transmission in a high prevalence setting: A genomic epidemiology study in Lima, Peru" Project Mentor: Maha Farhat, MD, MSc
William Gordon, MD, "A comparison of calculated Panel Reactive Antibody (cPRA) scores between a national population and a local platelet donor pool in patients undergoing hematopoietic stem-cell transplantation" Project Mentor: William J Lane, MD, PhD
Szu-Yeu Hu, MD, "Optic discs segmentation using convolution neural network" Project Mentor: Jayashree Kalpathy-Cramer, PhD.
Ben Min-Woo Illigens, MD,  "Accelerated large-scale quantification of red blood cell flickering motion" Project Mentors: Andrew Beam, PhD and Ionita Ghiran, MD
Chase Parsons, MD,  "Use of a Confidential Note Type in a Pediatric Hospital" Project Mentors: Fabienne Bourgeois, MD MPH and Jonathan Hron, MD.
Shaun Patel, PhD,  "Identifying a Closed-Loop Neurophysiological Signal of Impulsive Decision-Making" Project Mentor: Emad Eskandar, MD
Edwin Reyes, PhD, "Identifying Textual Patterns in Clinical Trial Patient Recruitment" Project Mentors: John Brownstein, PhD and Jared Hawkins, PhD, MMSc.
John Torous, MD,  "Using Patients' Personal Smartphones to Inform Risk of Relapse in Schizophrenia: An Exploratory Pilot Study" Project Mentors: Matcheri Keshavan, MD and J.P. Onnela, DSc.