Meet the Masters: Erik Doty
A series spotlighting Harvard Biomedical Informatics Alumni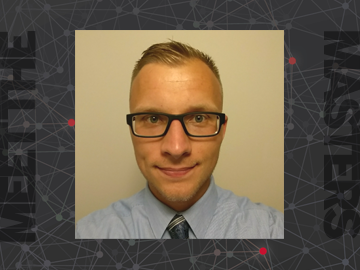 Today we feature Erik Doty, MBI, who graduated in 2017. He is currently in his final year of medical school at the University of New England (UNE) College of Osteopathic Medicine.
What did you do before attending Harvard Medical School?
Before attending Harvard Medical School, I had just completed my third year of medical school at the University of New England (UNE).
What are you doing now?
I am currently completing my fourth and final year of medical school at UNE. I have recently submitted my application for residency and am interviewing at various programs. I am planning on pursuing Emergency medicine.
How is the degree in Biomedical Informatics helping you?
The degree has allowed me to develop a very unique set of skills which I believe truly set me apart as a medical student and will be very applicable in my career as a physician. As time progresses, the amount of data in this world continues to increase. This is particularly evident in the healthcare setting. As my career progresses, I hope to continue to be an active researcher and I know this degree has given me the skills needed to handle this growing amount of data and make meaningful contributions to the field of medicine.
Why did you choose this program?
The program was a unique opportunity that I learned about while in medical school. I had an interest in informatics prior to attending the program and I could think of no better place to explore the field than a world-renowned institution like Harvard Medical School.
What do you think makes this program unique?
What truly makes this program unique is the diversity of the coursework. Students are able to take courses in both Biomedical and Clinical Informatics. Additionally, this program allows you the flexibility to take courses not only at HMS, but also at the TH Chan School of Public Health, Harvard Business School, and MIT.
What was your most memorable experience while in the program?
My most memorable experience was my first day. I remember feeling incredibly out of place and slightly intimidated as I was surrounded by a mix of physicians and PhDs. In the end, this helped to contribute to an amazing experience at HMS. I was not only able to learn from the course professors, but I was also able to learn from my classmates who had an incredibly diverse set of educational backgrounds.
How did the environment at Harvard Medical School enrich your training?
HMS is one of the greatest schools in the world. The classes attract a variety of impressive speakers from top hospitals and other well-known companies. In addition to the required courses, there were almost always additional seminars to attend to supplement your education.
How will your experience at Harvard Medical School help your future goals?
I hope to make research a large part of my future career as a physician. This experience has provided me the skills necessary to perform quality research in the field of informatics for years to come.
Edited by Sydney Narvaez