Meet the Masters: Joe Kossowsky
A series spotlighting Harvard Biomedical Informatics Alumni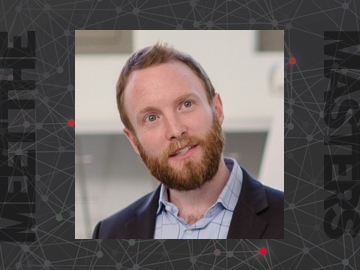 Today we feature Joe Kossowsky, PhD, MMSc, who graduated in 2017.
What did you do before attending Harvard Medical School?
I completed my graduate studies in Switzerland in the areas of Clinical Psychology and Neuroscience. During this time, I also completed my psychotherapy training and worked as a clinical psychologist with children and adolescents at an outpatient clinic. I moved to Boston for my post-doctoral fellowship at Boston Children's Hospital focused on establishing novel analgesic trials in order to elucidate psychosocial and pharmacological analgesia mechanisms in pediatric functional and chronic pain.
What are you doing now?
I've continued in academic research but have shifted my focus to creating data driven trajectories and taxonomies in the field of mental health and chronic pain at Boston Children's Hospital in collaboration with McLean Hospital. My projects involve multi-modal data acquisition and analysis based on digital phenotyping, wearables, neuropsychological tasks, clinical questionnaires, surveys, biobank data, neuroimaging and EMR data. We use a variety of informatics tools in combination with iterative computational approaches to identify various subgroups, trajectories and their genetic associations.
How is the degree in Biomedical Informatics helping you?
The degree in Biomedical Informatics has shaped my entire trajectory in ways I did not think possible a couple of years ago. It provided me with significant exposure and understanding in areas that are essential to my current work, such as machine learning, genomic medicine, natural language processing and deep phenotyping. While my clinical training, research and experiences have shaped the questions I ask and the conclusions I draw from data, almost every aspect of the methodologies I currently work with in my day to day work, I learnt about or significantly increased my knowledge on during my BMI training.
Why did you choose this program?
My postdoctoral fellowship at Children's Hospital had shown me that the Harvard community and environment, especially the medical community, is like no other that I had come across. Together with the possibility to cross-register for courses at MIT, I knew that the Master's program would provide me a unique opportunity to immerse myself on both a conceptual and practical level in two of the leading institutions worldwide in the fields of medicine and informatics.
What do you think makes this program unique?
Without a doubt, one of the main advantages of the course is the Harvard Medical School setting itself. The breadth of institutions and departments involved with the DBMI is exceptional. The fact that my classmates were working in different institutions than I was really allowed for substantial cross-pollinating of ideas and opinions. The scope of the program itself with the various specialities, such as clinical informatics and population health informatics, also provides every student with a good foundation to build upon, no matter what their interest might be within the domain of biomedical informatics.
What was your most memorable experience while in the program?
A recurring memorable experience in the program, which was immensely transforming, was starting most weeks having no idea how to process most the new information I was being exposed to and ending the week with a solid understanding of the subject matter and a decent amount of practice. Over the course of the two years, I grew accustomed to learning and succeeding while continuously outside of my comfort zone.
How did the environment at Harvard Medical School enrich your training?
The proximity of the various institutions in the Longwood area and collaborative spirit of HMS allowed me to work in a couple of labs at HMS and in the affiliated hospitals during my training. I was therefore not only able to attend excellent courses offered at HMS and Harvard School of Public Health, but also got to see and experience first-hand how numerous pioneers in their respective fields lead their labs/departments, the various strategies they use to obtain funding, conduct their research, and thrive in one of the most stimulating and competitive environments in the world.
How will your experience at Harvard Medical School help your future goals?
Being part of the DBMI gave me a great overview of the field of biomedical informatics, while the courses provided me with a solid starting point to learn and master the necessary analytic methodologies. Equally important, through seminars, my mentors and classmates, I was able to get connected with key players both in academia and industry within my field of interest. The newly acquired informatics perspective, knowledge, computation skills, and networks have dramatically improved what I am able to offer the medical research community and society.
Edited by Sydney Narvaez