Meet the Masters: Raolat Abdulai
A series spotlighting Harvard Biomedical Informatics Alumni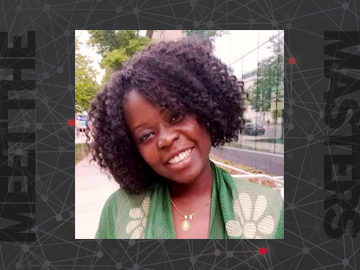 Today we feature Raolat Abdulai, MD, MMSc, who graduated in 2017. She is currently an Associate Director within Early Clinical Development in Respiratory, Inflammation, and Autoimmunity (RIA) therapeutics at AstraZeneca in Waltham, MA.
What did you do before attending Harvard Medical School?
Before starting my Master's, I was a Pulmonary and Critical Care Medicine fellow in the Harvard/Brigham and Women's Hospital Program. In fact, I performed the coursework during my last two years of fellowship. Prior to this, I completed my residency in Internal Medicine at the Mayo Clinic and medical school at Howard University College of Medicine.
What are you doing now?
Currently, I serve as an Associate Director within Early Clinical Development in Respiratory, Inflammation, and Autoimmunity (RIA) therapeutic area at AstraZeneca in Waltham, MA.
How is the degree in Biomedical Informatics helping you?
While most of my work is focused on developing drugs for asthma and COPD patients, I have continued my informatics interests within drug development and clinical trials. This work has been in a sub-section of informatics called clinical research informatics (CRI). For example, using R, I built a user-friendly app based on clinical trial recruitment trends for a respiratory study. This app predicts how well a site will recruit patients. While the app is still a prototype, when complete, it will be an important tool for clinical trial planning.
Why did you choose this program?
While I was a resident at the Mayo Clinic, an iPad app was developed for physicians to view medical record data to help care for their patients. I was so impressed by this app, that I bought an iPad and started pre-rounding, early morning evaluation of patients, with my iPad. This allowed me to become more efficient in my practice, specifically, I was up to date on my patients and the evolving state of their diseases. Instantly, I would know when new labs were ready and when imaging was available. Sometimes I used the iPad to explain to my patients the findings on their chest x-ray. I also used apps to help improve my medical knowledge. For me this was a game changer—I knew that I wanted to be involved in informatics to improve clinical care and research delivery. I found out about the informatics program from several colleagues who had completed the program or were still in the program. I interviewed and felt that I was in the right place.
What do you think makes this program unique?
The program's flexibility makes it so unique. As a physician, it worked with my schedule. There were other physicians within the program and there was an understanding that life could be busy with hospital duties. Another unique aspect was the ability to tailor the program to your needs. There were different tracks and a variety of mentors. I chose Peter Tonellato, PhD, as my mentor. His guidance led to a successful thesis project.
What was your most memorable experience while in the program?
My most memorable experience was making new friends. Despite graduating in the spring, my classmates and I still spend time with one another. We discuss our careers, lives, and goals, and support each other's endeavors. Some of us have partnered on innovative projects outside of class. In addition, our lecturers and program administrators have been supportive and have continued to act as career and life mentors. In the end, this was not only an excellent networking experience, but it also provided new lifelong friends.
How did the environment at Harvard Medical School enrich your training?
HMS opened a world of innovation to me. Through HMS and the DBMI, I learned about the Harvard Innovation Lab (i-lab) and had a project chosen for their Venture Incubation Program (VIP). In addition, I attended the Biomedical Informatics Entrepreneurs Salon (BIES) meetings at HMS to learn from others who have taken the journey of following their dreams. Furthermore, I completed the Certificate in Biostatics offered through Harvard Catalyst | The Harvard Clinical and Translational Science Center. I feel fortunate to have been at such a center of knowledge and opportunity.
How will your experience at Harvard Medical School help your future goals?
My experience at HMS has taught me to be persistent but connected. It's easy to pursue your ambitions on an island. However, you lose insight from others—such as stories of mistakes, success, luck, and failure. I once thought that I could be a force on my own. I have now realized that I can only be a force if I am part of a community that nurtures my growth. I plan to continue my work in drug development and utilizing informatics to improve clinical trials. But I continue to stay connected to my colleagues and mentors at HMS, through collaboration on projects and hanging out at Red Sox games.
Edited by Sydney Narvaez