Meet the Masters: Shakti Ramkissoon
A series spotlighting Harvard Biomedical Informatics Alumni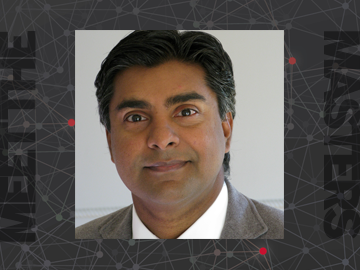 Today we feature Shakti Ramkissoon, who graduated in 2013 and currently serves as Associate Medical Director and Senior Neuropathologist at Foundation Medicine Inc. (FMI) in Cambridge, MA.
What did you do before attending Harvard Medical School?
Before starting the Master's in Biomedical Informatics at Harvard Medical School, I completed an Anatomic Pathology residency and a Neuropathology fellowship at Brigham and Women's Hospital. Over the course of my clinical training, it became clear that the use of genomic data and informatics would become integral to how we diagnose and treat adult and pediatric brain tumors.
What are you doing now?
I am Associate Medical Director and Senior Neuropathologist at Foundation Medicine Inc. (FMI), a leading molecular information company based in Cambridge, MA. At FMI we analyze patient tumor samples to provide genomic profiles that are used to support tumor classification, discussions about prognosis, and therapeutic-decision making. We also work closely with academic and biopharma partners to support clinical trials and develop the next generation of cancer therapeutics.
How is the degree in Biomedical Informatics helping you?
I use skills developed during my Biomedical Informatics training every day whether I'm discussing sequencing results with patients and oncologists, correlating genomic and clinical data, speaking to oncology groups and at national conferences, or writing manuscripts for publication.
Why did you choose this program?
This program offers unparalleled access to the top minds in the field alongside small class sizes and faculty who sincerely care about your personal and professional development. Together, these factors allow for more engaging and thoughtful discussions during classes, and provide an opportunity to learn from peers and leaders in the field.
What do you think makes this program unique?
The program is designed to develop a set of tangible skills (e.g. programming, statistics, study design, project management, public speaking, writing, and professionalism), as well as a way of thinking or problem solving that one can rely upon when making decisions. As the field of informatics changes almost daily, it is not enough to become an expert in the 'now' but rather to develop tools, work ethic and a curiosity to stay current with or even ahead of the field.
What was your most memorable experience while in the program?
Some of my most memorable experiences came from faculty lectures—people like Drs. Zak Kohane, Alexa McCray, Peter Tonellato—because they really embodied the idea of 'thinking big.' Their lectures gave you a sense of how to approach and potentially solve really complex and multifaceted problems—neuropsychiatric disease, improving ways to communicate in science and medicine, developing centralized clinical trial information systems, and extracting the most value from 'big data.'
How did the environment at Harvard Medical School enrich your training?
The HMS environment encourages collaboration, which made it easy to find mentors and people with similar interests who were willing to share their time, ideas and resources. I enjoyed the structure of the training program as it was a mix between didactic and hands on experiences, and everyone was very supportive and motivated to help you learn.
How will your experience at Harvard Medical School help your future goals?
My experience at Harvard Medical School paved the way for an exciting career in genomic medicine and has encouraged me to seek out opportunities to use bioinformatics and technology to improve patient care.
Edited by Sydney Narvaez