Susanne Churchill Receives Diversity Lifetime Achievement Award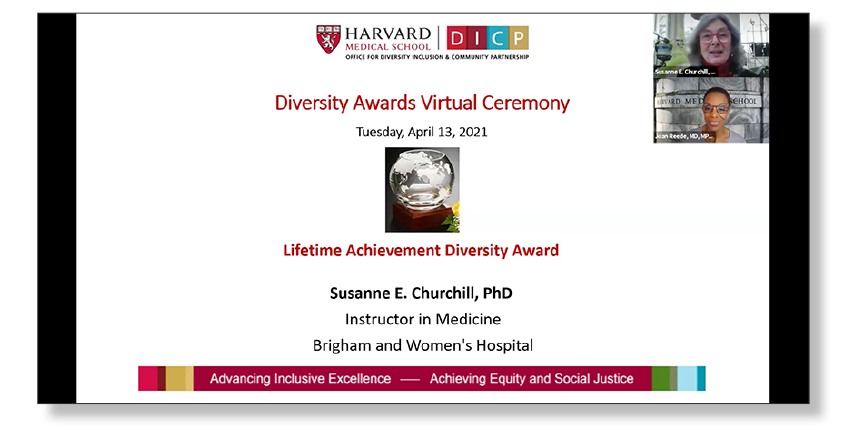 Susanne Churchill, Executive Director of the Department of Biomedical Informatics (DBMI) at Harvard Medical School (HMS) and Instructor in Medicine at Brigham and Women's Hospital (BWH), accepted the Diversity Lifetime Achievement Award in a virtual ceremony on April 13, 2021. The award was presented by HMS Dean for Diversity and Community Partnership Joan Reede. 
The Award
The diversity awards were established to recognize faculty and staff from Harvard Medical School and Harvard School of Dental Medicine who have made significant achievements in moving Harvard towards being a diverse and inclusive community. An advisory committee with representatives from across our medical and dental school communities carefully reviewed and discussed each nomination and unanimously recommended the recipients. They are presented by the Office for Diversity Inclusion and Community Partnership (DICP), which was established in 2002 (originally named Faculty Development and Diversity, est. 1995) to promote the increased recruitment, retention and advancement of diverse faculty, particularly individuals from groups underrepresented in medicine, at HMS and to oversee all diversity activities involving HMS faculty, trainees, students and staff.
Susanne's Key Endeavors
Dr. Reede emphasized three of Susanne's local diversity and inclusion initiatives:
Summer Institute in Biomedical Informatics (SIBMI), which she originally established in 2005 during the i2b2 program, an NIH-funded National Center for Biomedical Computing based at BWH. Susanne has continued to direct SIBMI at DBMI since the department's founding in 2015, and the program will soon begin recruiting for its 18th class. SIBMI's emphasis remains on leveraging undergraduate students, especially those who are underrepresented in STEM fields, into professional careers in computational science.
Increasing the inclusivity of the admissions process for the Bioinformatics and Integrative Genomics (BIG) PhD program.
Sustained commitment to promote diversity for every level of the academic pyramid.
In addition, Susanne has been engaged in the following efforts:
Long-term partnership with Morehouse School of Medicine (MSM) to advance research opportunities for their faculty and students, including:

Service as a member of their External Advisory Committee for their Research Center in Minority Institutions Program (RCMI);
Chair of the MSM External Advisory Committee for the MSM NASA Space Medicine Life Sciences Research Center
Founder and host of a BWH-MSM Postdoctoral Scholar Program

Founding Member of the Boston Area Minority Collaborative, an action group of leaders of Boston-based NHGRI awardees responsible for the minority action plan (MAP) elements of their respective training and large collaborative grants.
Trustee of Bay Path University 2002–2017, including the position of Chair for the Academic Committee, culminating in an honorary degree from the university in 2017 and establishment of the Susanne Churchill Award of Excellence for Women in STEM.
Major Influences
In her acceptance speech, Susanne took the opportunity to credit some of the myriad mentors and collaborators who have guided her path during a career at HMS and BWH spanning more than four decades. Several have been so widely influential as to have had awards established in their names.
Harold Amos, with whom she had the pleasure to work during her postdoctoral studies, and Cliff Barger, her postdoctoral mentor—two "peas in a pod in terms of their devotion to diversity and inclusion"
Dr. Amos (1918–2003) was the Maude and Lillian Presley Professor of Microbiology and Molecular Genetics, chair of the former department of bacteriology, and the first African American to earn a doctoral degree from the Division of Medical Sciences at HMS in 1952. The Harold Amos Faculty Diversity Award  is given in his honor to recognize those who have made significant achievements in moving HMS/HSDM toward being a diverse and inclusive community. Dr. Barger (1917–1996) was the Robert Henry Pfeiffer Professor of Physiology, chair of the former department of physiology (now cell biology), and, as President of the American Physiological Society, led the development of professional opportunities particularly for women and minority physiologists. The A. Clifford Barger Excellence in Mentoring Award is one of several at HMS that recognize the value of quality mentoring relationships and the impact they have on professional development and career advancement in basic/clinical medicine, research, teaching, and administration.


HMS Department of Physiology in front of Gordon Hall circa 1982. Susanne is pictured three rows down from the leftmost building column. Cliff Barger, her postdoctoral mentor and chair of the department, is in the front row fourth from right. Susanne taught physiology at HMS for 13 years, for which she received the Faculty Prize of Excellence in Teaching (1987) and the Boylston Medical Society of HMS Teaching Award (1988).



Her friend Dan Federman, "who was almost singularly responsible for gender equity in the Harvard Medical School class as well as racial diversity at a time when other institutions were still struggling with it"
Dr. Federman (1928–2017) was the Carl W. Walter Distinguished Professor of Medicine and the Dean for Medical Education at HMS. The Daniel D. Federman Staff Award for Exceptional Service to HMS/HSDM was established in his honor.
 
Carola Eisenberg, for whom Susanne served as a peer leader in first-year medical student groups for six years, giving her "amazing opportunities to work with students... from across the color spectrum from every imaginable walk of life, [which] really shaped my understanding of what we needed to do to be all-inclusive as we move forward"
Dr. Eisenberg (1917–2021) was the first female Dean for Student Affairs at Harvard Medical School, a position she held from 1978 to 1990 after holding the same role at MIT. During that time she also co-founded Physicians for Human Rights. She was a practicing psychiatrist and a long-time lecturer in the HMS Department of Global Health and Social Medicine, where she helped institute a course series on human rights.
 
Zak Kohane, "my friend, mentor and boss, who has allowed me the many years of my summer program and my activities in promoting diversity across the board, [and] now himself is about to become an adjunct professor at Morehouse"
Dr. Kohane is chair of DBMI, the Marion V. Nelson Professor of Biomedical Informatics at HMS, and Associate Professor of Medicine at BWH.
 
Susanne's BSAG (basic science administrators group) colleagues, "who individually and collectively have made amazing progress in programs they have created in their departments and across the departments to move this forward, including the faculty search that we just did. They are marvelous and unrecognized. And to the extent that I could share this acknowledgement I would like them to be amongst those who have worked as hard as I have in all of these regards."
HMS recently conducted a cluster faculty hiring initiative across basic science departments with the express purpose of finding junior faculty who demonstrate commitment to fostering diversity and equity. These departments include Biological Chemistry & Molecular Pharmacology (BCMP), Biomedical Informatics (DBMI), Cell Biology, Genetics, Immunology, Microbiology, Neurobiology and Systems Biology.
A Call to Action
Susanne closed her remarks with a challenge to the community to focus more efforts on students even younger than those in her SIBMI program. Over the past ten years she has had a growing awareness "that we were completely missing the boat...in the high school years, where our kids are missing out on an appreciation of their power to succeed in the STEM fields."
She called attention to the Health Professions Recruitment & Exposure Program (HPREP) , a self-funded initiative of HMS graduate and medical students who provide year-long immersion experiences for students in the Boston high school system. These types of investments expand the students' opportunities moving forward and ultimately enlarge the pool of diverse candidates available to fill academic systems. 
Susanne implored everyone listening to take a student "into your lab or into your life and... let them see what is possible for them."