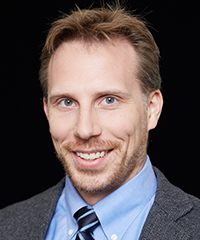 Matthew Might, PhD
Senior Lecturer on Biomedical Informatics, Part-time, Harvard Medical School
Matt Might  has been the Director of the Hugh Kaul Precision Medicine Institute at the University of Alabama at Birmingham (UAB) since 2017. At UAB, he is the Hugh Kaul Kaul Endowed Chair of Personalized Medicine, a Professor of Internal Medicine and a Professor of Computer Science. His research at UAB focuses on precision prevention, diagnosis and therapeutics across rare disease, cancer and common/chronic conditions. A principal theme in his research is the use of computer and data science to enhance clinical and academic medicine.
From 2016 to 2018, Might was a Strategist in the Executive Office of the President in The White House. At The White House, he worked primarily on President Obama's Precision Medicine Initiative with both the NIH and the Department of Veterans Affairs.
In 2015, Might joined the faculty of the Department of Biomedical Informatics at Harvard Medical School. At DBMI, his research focuses on rare disease discovery and diagnosis, and on the development of personalized therapeutics for rare disease.
Might is co-founder and Chief Scientific Officer of NGLY1.org, a non-profit dedicated to finding treatments for NGLY1 deficiency, and he was a co-founder and Scientific Advisor to Pairnomix, a start-up which identifies potential patient-specific therapies for rare disorders. Q State Biosciences acquired Pairnomix in October 2018, and Might remains a Scientific Advisor.