MBI Class of 2022 Presents Capstone Projects
Project variety highlights breadth of biomedical topics the informatics discipline can impact.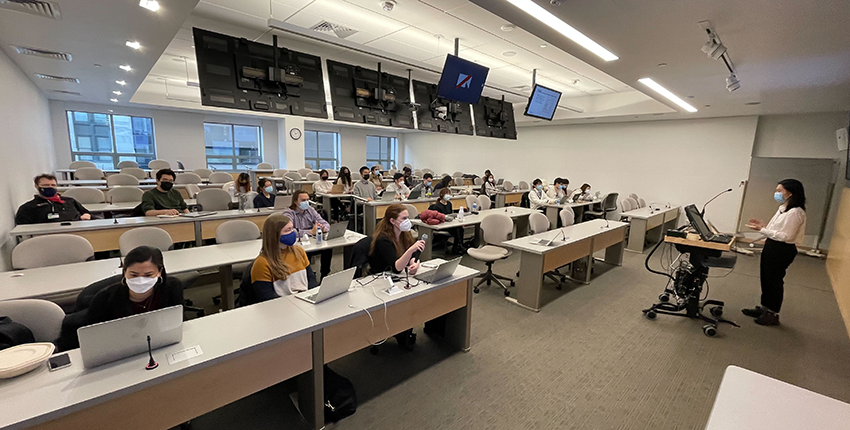 The Master of Biomedical Informatics (MBI) class of 2022 presented their capstone projects in a hybrid in-person/virtual gathering that showcased the variety of topics the discipline can tackle. The bios of all current MBI students are a further indicator of the diversity of career paths an MBI can support.
| Capstone Project Title | Student | Project Mentor(s) |
| --- | --- | --- |
| Time to Treatment Discontinuation in Hormone-Receptor-Positive (HR+) Metastatic Breast Cancer (MBC) Patients following CDK4/6 Inhibitor Treatment, Based on Observational Data Collected Through Patient-Partnered Research | Ariel Carmeli | Nikhil Wagle, MD; Tianxi Cai, ScD  |
| Predicting patient response to immunotherapy using peripheral immune signatures of classic Hodgkin lymphoma | Kelsey Lu | Shirley Liu, PhD; Ming Tang, PhD |
| Detecting Obstructive Sleep Apnea using Routinely Collected EHR Data | Taylor Shishido | Susan Redline, PhD, MPH; Brian Cade, PhD  |
| Interpretable Machine Learning for the Prediction of Amputation Risk Following Lower Extremity Infra-Inguinal Endovascular Interventions for Peripheral Arterial Disease | Meredith Cox | Dania Daye, MD, PhD; Jayashree Kalpathy-Cramer, PhD |
| Comparative Analysis of Single-cell Transcriptomics Uncover Human Fetal Heart Developmental Features | Weixiu "Jenny" Dong | Peter Kharchenko, PhD |
| Prediction of Ubiquitination Sites and Implication for Targeted Protein Degradation | Jiaye Chen | Shirley Liu, PhD |
| Deep Learning-Based Integration of Genomics, Histology, and Radiology for Improved Survival Prediction in Glioma Patients | Luoting "Lottie" Zhuang | Jana Lipkova, PhD; Richard Chen; Faisal Mahmood, PhD  |
| Genomic correlates of response to immune checkpoint blockade across cancer types | Pauline "Polly" Gabrieli | Eliezer Van Allen, MD |
| Validating the use of electronic health record (EHR) phenotyping, to identify sex-based disparities in post-viral disease diagnoses, using Myalgic Encephalomyelitis / Chronic Fatigue Syndrome (ME / CFS) as a case study | Tiffany Tuedor | Shawn Murphy, MD, PhD; Victor Castro, MSc; Vivian Gainer, MS |
| Development of Machine Learning Models to Identify Cases with Drug Rash with Eosinophilia and Systemic Symptoms (DRESS) Syndrome Using Clinical Notes from Electronic Health Records | Shijia Zhang | Li Zhou, MD, PhD; Liqin Wang, PhD |
| Transformer versus Traditional Natural Language Processing: How Much Data is Enough for Automated Radiology Report Classification? | Eric Yang | Jayashree Kalpathy-Cramer, PhD |
| Predicting Treatment Outcomes from Time-Varying Mechanical Ventilation Treatment Strategies among ARDS Patients in the ICUs | Shangshang Wang | Finale Doshi-Velez, PhD, MSE, MCS; Li-wei Lehman, MCS, PhD |
| Development and Evaluation of a Prototype of Redesigned Drug Allergy Alerting Mechanisms | Lanting Li | Li Zhou, MD, PhD; Diane L. Seger, RPh; Ying-Chih Lo, MD, PhD; Foster Goss, DO, MMSc, FACEP; Heba Edrees, PharmD |
| Survival Analysis of COVID-19 ARDS Patients using Dynamic Mechanical Ventilation Data | Daniel Tan | Li Zhou, MD, PhD; Maryam Tavakoli, PhD |
| Parsable Clinical Trial Eligibility Criteria Representation Using Natural Language Processing | Jeongeun "Jane" Kim | Yuri Quintana, PhD |